AUGMENTED REALITY
In the information age, the lines between human and technological device are blurring as smart technology allows people to gain more insight on individual health and beauty needs. With the popularisation of wearable technology, consumers for the first-time can learn more about the inner workings of their own body. Mintel research shows that 18% of Chinese consumers own a wearable device and around 50% of UK sun care users would like an app that could track changes in their skin or moles.
Wearable Technology
Beauty brands are expected to offer products and analytical devices as consumers are becoming increasingly familiar with using technology to track their health and well-being. 30% of women in the US are willing to try a facial skincare product with integrated diagnostic tools and we will begin to see more demand in the future for DNA analysis, skin scans and 3D face images. This technology will allow consumers to feel and see the texture of the skin, and to discuss suitable products with consultants on aspects such as anti-ageing, with brands already offering some diagnostics, for example, Vichy and Bodyshop.
Advancements in technology will also offer improved shopping experiences in the retail space. New product development in augmented reality will provide the next generation with virtual mirrors and virtual concierge services. There is already a demand for it, as 64% of Chinese consumers are interested in buying luxury goods via virtual mirrors, virtual reality headsets and interactive displays. In the UK, 23% of young female consumers are interested in digitally viewing their desired hairstyle or colour before committing to a purchase.
As consumers rely more on technology to enable them to play a greater role in health and beauty management in the coming decade, it will be up to brands to guide them on their journey and provide practical benefits to consumers.
Sephora's new smaller Flash 3.0 store concept on Paris' Rue de Rivoli is welcoming shoppers with a mini robot, which encourages them to browse the shelves or a digital catalogue, download their selections into a virtual basket via near field communication (NFC) cards and then collect their products in-store or have them delivered to their homes.
WATER: A SUSTAINABLE PERSPECTIVE
Water is set to become a precious commodity as consumption outstrips supply. As the number of cautious consumers increase, beauty brands will need to change and reformulate their products to limit their dependence on water. In the UK, one third (33%) of consumers say they would pay more for fixtures that save on water or energy bills, while 27% always try to take shorter showers and 27% reuse water. Thus, transparency of water usage will also play a big role due to rising customer expectations.
With some brands already taking notice, there is a need for new product formulations that require little or no extra water in order to function. Cleansing treatment face powders, wipes, dry shampoos, non-rinse body washes and alternative toothpaste formats - are all water-saving beauty solutions which are on the increase. But the next generation of products are set to work without any water at all and will appeal more amongst the younger age groups. In the UK, around 25% of youngsters are interested in dry soap, bath and shower products, and even more so in France (30%).
The interest in alternative water sources is also increasing. Brands search the earth to gain a competitive edge, looking for eco-friendly or exclusive sources of water not from the tap as we know it, but also plants.
Water as a sustainable source
ENERGY CLAIMS
As modern life accelerates, energy levels are a key concern for consumers; 80% of US adults rank tiredness second as a health concern. In the next decade, consumers will be looking at significant lifestyle changes to address low energy levels and will seek boosting products with energy-centric formulations. Living a healthy lifestyle as a whole, is a first approach customers will take. In China, facial skincare consumers link lifestyle, fitness and the condition of their skin - with 72% interested in increasing sleep quality to improve their skin, 65% wanting a more balanced diet and 60% wanting more exercise. Similarly, Brazilians rank sleep as one of the top three factors of a healthy life (74%), followed by exercise (49%) and a balanced diet (46%).
Secondly, consumers will increasingly look for products that complement change in their lifestyle. Indeed, energy claims are on the rise in the beauty and personal care market. According to Mintel's database, 12% of global new product launches of facial skincare products featured energy claims between January to October 2015, up by 1.5% from 2014, while shampoo launches increased by 0.5%, respectively. Brands are already working on energy-boosting products, particularly in skincare and haircare products but there are still many opportunities for brands, especially formulators. The stage is set for even more ambitious claims; see below examples of ROC and Kanebo-Sensai products.
In the future, brands will need to tangibly illustrate their products in order to have an impact on consumer energy levels and their healthier lifestyle.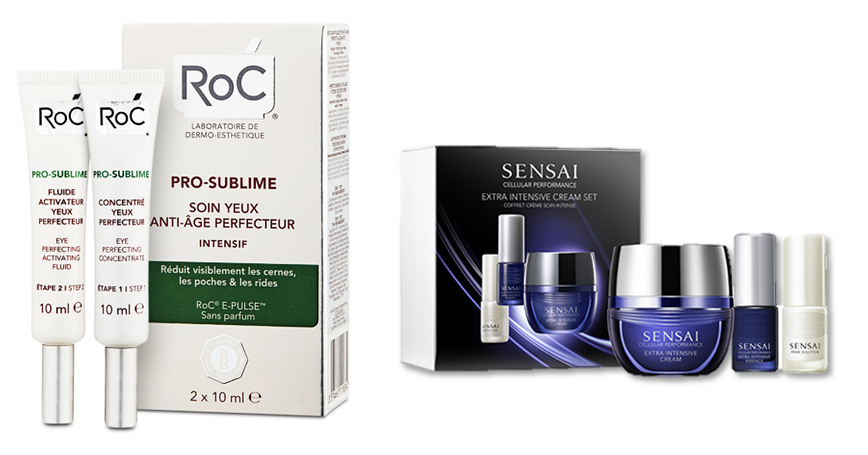 RoC's Pro-Sublime Anti-Age Eye Perfecting Serum and Kanebo's products using Advanced Energy Charge Technology.
GASTRONOMIA
With an increased focus on natural beauty over a few years, interest in natural products and ingredients continue to grow. The Beauty industry sees an increasing number of consumers creating homemade products and beauty solutions with the help of brands. Indeed, half of UK men believe facial skincare products with natural ingredients are better for the skin and similarly 42% of UK personal care consumers buy natural and organic products for environmental reasons, while 57% of US consumers purchase them because they are free from unnecessary ingredients or 'frowned upon' chemicals. Nearly half of Italian and Spanish consumers buy natural and organic beauty products because they believe they are better for their health.
Attitudinal changes towards natural ingredients have driven customers' desire to be more in control of beauty products resulting in the rise of 'kitchen beauty' – products made at the kitchen table. It is also quite visible with an increased number of Vloggers as Michelle Phan's YouTube tutorials on homemade face masks and scrubs with 3 million views in 2014 or Soap Queen's bath product making tutorials with nearly 220,000 subscribers demonstrating the overwhelming number of consumers who are already looking for homemade beauty DIY tips.
Customer care brands engage with beauty retailers to inspire them in making beauty products with natural ingredients to outrun supermarkets. Looking at the years ahead, we'll see beauty brands offering classes and partnering with homeware brands to create kitchen devices and storage products.
With growing interest in pursuing more natural lifestyles, consumers will find themselves getting involved in the creation process to ensure their beauty and personal care products are more transparent.
Gastronomia
So there you have it, 4 exciting trends on the far horizon. Which one will be the most impactful or transformational for your business?
---