Global supply chain disruptions are at historic highs and the issues are predicted to persist until the second quarter of 2022.
Accelerated inflation puts more pressure on manufacturers, since the kickoff of the pandemic with mounting supply challenges, stacking manufacturing costs and raw material prices, on top of jammed ports and high shipping fees.
These challenging times also impacted us, our suppliers and customers in the personal care market and we are making an enormous effort to maintain a consistent supply for our customers for the foreseeable future.
As the global supply chain shows no sign of stabilising, we wanted to update you on some of the challenges we're facing at the end of 2021. Some of these challenges may be familiar to you already – many of you have shared your experiences on things like cardboard and other raw materials.
Accelerating inflation and rising energy costs
The US has already seen an increase in inflation with the average household earning an annual income of $70,000 , the current inflation rate has forced them to spend $175 a month more on essentials like food, housing, fuel, according to Mark Zandi, the chief economist at Moody's Analytics.
In the UK, inflation is on the rise, with already increasing energy costs, leaving no manufacturers unaffected. The most recent figures show prices rose by an average of 3.1% over the past 12 months. The Bank of England thinks the figure could go above 4% by December and stay that high until the spring.
This is happening globally and not only in developed countries.
Personal care manufacturers are left with no choice but to raise prices with P&G, Colgate-Palmolive, General Mills, Kleenex, Kimberly Clarks and many more already warning of further price increases.
Transport and Logistics
The truck driver and port worker shortages, inflated petrol prices and jammed ports all continue to add to the transportation challenges. Freight costs are up almost 10x year on year due to inflation pressures with supply chain importation costs increased by at least 4 times, unlike ever seen before.
Demand for oil and gas has risen worldwide, pushing up the price of energy, which has a big knock-on effect on businesses to run machinery, heat offices and pay for transporting goods.
EU road freight has been impacted by border changes. Covid restrictions and testing, as well as increased border control between the UK and EU, have meant the cost of road deliveries has increased, driven by availability and waiting times.
The strain on shipping ports carries on. One of the largest sectors impacted as a result of Covid has been the worlds shipping ports. Shipping lines face mounting backlogs and delays, straining international supply chains and threatening to disrupt global trade.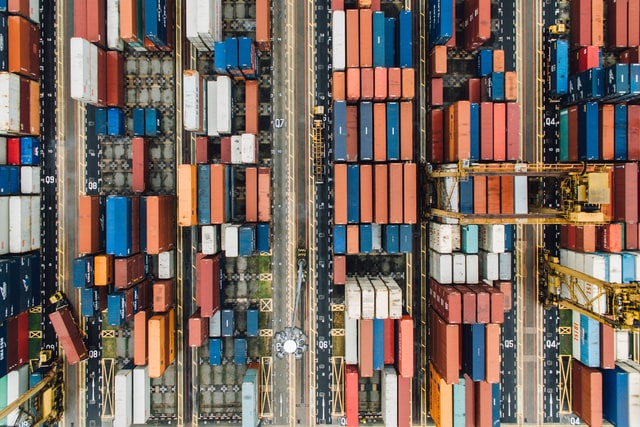 Image Credit – Chuttersnap
With soaring consumer demand and disruption to factory output caused by lockdowns, staff illness, quarantining and social distancing, the shipping industry has been under severe pressure throughout the last 12 months. As a result of the delays in ports, there is now the knock-on effect of a shortage of shipping containers globally.
Packaging
Cardboard
As a result of global lockdowns, the demand for delivered goods increased significantly with many businesses now unable to source cardboard within realistic time frames. Before the pandemic, most deliveries were made in bulk to retail stores and restaurants and as a result of quick turn arounds, the product packaging would be quickly recycled and return back in the system via recycling firms. The amount of recycling from households hasn't increased which adds to this issue.
Companies across the UK are finding lead times of 2 weeks to 3 months in some cases, with price increases in March and April.
Cardboard recycling
Plastic
The world has seen serious knock-on effects from China's workforce being temporarily on hold due to Covid19.
As China begins to recover from the effects of the pandemic, the ramp-up in raw material consumption, particular polypropylene, Polyethylene, Steel (price increased 50%) and High-Density Poly Ethylene is having major effects on the global economy.
The recent freak weather storms that hit the USA have caused issues with the plastic supply chain. Manufacturers of multiple polyethylenes (PE) and polypropylene (PP) materials have been forced to shut plant operations due to the winter storms, with several plants declaring force majeure causing a knock-on effect of price increases throughout the world as demand increase and supply slows.
Demand for polymers grew in the second half of 2020 and supply didn't follow accordingly. This, coupled with a shortage of shipping containers, has meant many companies are now experiencing significant price increases.
Raw Materials
Many different raw materials have been affected either directly or indirectly by the Pandemic.
Palm Oil
Adverse weather and labour shortages have seen the production of Palm Oil decrease by 1.85% to 1.11 million tonnes, a fifth successive month of declines, the lowest in 5 years.
Palm oil prices continue to rise even higher, since March 2021. This also resulted in an economic price increase on other vegetable oils, including Sunflower oil mentioned below.
As China edges closer to normality, there's been a huge increase in Chinese manufacturers buying raw materials to cope with global demand which has put enormous strain on the supply of Palm Oil.
Another indicative reason for the price increase of Palm Oil is the price surge in crude oil. As the price of crude oil increases, other edible oil prices follow suit.
Monopropylene glycol (MPG)
The lack of Propylene production globally has caused a series of shortages to the supply of MPG. Coupled with an increase in transport costs, shortage of drivers and truck delays, the price of MPG isn't set to come down over the next quarter.
Glycerine
As the pandemic settled in and lockdowns began to emerge, flights were grounded and travel restrictions were put in place. This saw a drastic reduction in fuel as well as biofuels.
As a result, the production of biodiesel and Glycerine, it's most important by-product, was significantly reduced. The price of Glycerine shot up to 1600 €/MT with some tankers even sold above 2000 €/MT.
Sunflower Oil
Due to the poor performance of sunflower seed harvests across black sea producers, the supplies of Sunflower oil have tightened. Due to draught-like conditions during the growing season, harvests in Russia, Ukraine, Romania, Bulgaria and Moldova are expected to be much lower than usual market expectations.
Sun Flower Oil
Stearic Acid (and general Oleo chemicals)
Stearic increased due to the availability of Refined Palm Stearin (RPS) which is the feedstock for Stearic Acid production. As it's coming close to the end of peak season, yield stock is dropping (normal at this time of year) but due to the increasing industrial demand coming out of the pandemic the price has slowly crept up.
Our message
At Stephenson, we've been working hard to keep things moving. Our supply chain of raw materials is secured to ensure we will never go out of stock, so neither will you.
We are reviewing transport options to work around the port and border delays.
We will continue working closely with our customers and distribution partners to forward plan production and deliveries.
Our continued investment in our supply chain and manufacturing site is addressing the current market challenges. If you would like to know any more on these topics or to discuss your upcoming needs, please speak to your Stephenson contact.
---